Description
Empowering Womxn in STEAM Theme Program (WiSE), is focused on exploring the intersections of gender with Science, Technology, Engineering, the Arts and Mathematics.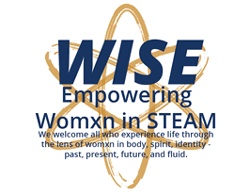 The WiSE Theme Program began in 1999 as an affinity space for 42 first-year female-identified students. The goal is for residents to explore their interest in science, technology, engineering, arts, and mathematics (STEAM) fields, and intersections of social identity in their profession. Through weekly seminar discussions and intentional programming, WiSE provides a critical community where residents learn about the gender gap, power, and privilege in the STEAM fields and advancements in current research. We welcome all who experience life through the lens of womxn in body, spirit, and identity – past, present, future, and fluid. The WiSE Community was recognized by the National Residence Hall Honorary as the October 2019 Community of the Month for their exemplary community development and commitment to empowering women in the STEAM fields.
Program Requirements
This is a yearlong (fall and spring) 1-unit per semester, Pass/No Pass seminar that meets Mondays from 7–9pm. The seminar focuses on discussing participant identities as females in a still male-dominated field, and how this impacts women's professional and personal life. The seminar aims to equip students with valuable skills that will help them navigate possible gender bias and other gender-related challenges throughout their career. If you're admitted to WiSE, you will be provided with more information about how to enroll in the class.
WiSE students are expected to participate and be actively engaged in theme program activities and events, including:
Fall and spring WiSE Theme Program retreats. (These take place the first or second weekend of September and the first or second weekend of February.)
WiSE programs, hosted by the Theme Program Assistant.
Faculty Dinner.
Faculty and Industry Roundtables.
Community Mixer.
WiSE Conference (February–March).
Cal Day (April).
End of the Year Celebration (April–May).
Signature Events & Programming
Events include a wide variety of leadership and community-building activities, such as dinners with faculty, study groups, on-site tutoring, mentoring, and field trips.
Living Space
WiSE residents live together in Unit 4 (Stern), which is a building housing women-identified students and is located next to the Foothill complex on the northeast side of campus. For more information about Stern Hall, including amenities and features, academic services, transportation, and more, please visit housing.berkeley.edu.
Contact
If you have additional questions WiSE that are not answered here, please email Residential Life at rsc-livinglearning@berkeley.edu.