Description
Native American Theme Program (NATP): Building Native Community to Foster Future Indigenous Leaders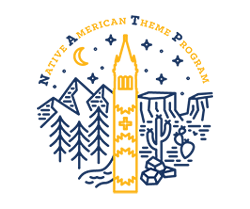 One of the newest theme programs at Berkeley, the Native American Theme Program provides residents with the unique opportunity to be part of a close-knit network to share experiences and engage in being part of the Native community at Berkeley. NATP focuses on building a community that can support each other in their academic and personal lives. The program immerses students in indigenous scholarship and history from indigenous perspectives; it engages students in critical thinking around Native and tribal identities, representations, and experiences; and explores culture through political, historical, and contemporary contexts. NATP explores the unique history of Bay Area Native activism, and provides students with the opportunity to engage directly with community members and scholars. Grounded in academic excellence, community, critical inquiry, leadership, and wellness, the program focuses on a holistic experience that supports students. The program believes that Native and Indigenous students in higher education are future leaders, and seeks to foster their development as such.
The Native American Theme Program welcomes students from all experiences — we do not define Indigenous or Native as being only American Indian, tribally enrolled, or expect that residents are traditionally culturally grounded. What is important is the desire to connect with other Native and Indigenous students and be part of the community. NATP offers the opportunity to further explore cultural, heritage, and tribal connections to your individual identity.
A live-in Theme Program Resident Assistant provides resources and helps support residents' social and academic needs. Students are also supported and engaged by returning students who work to support community development. NATP is more than just a place to live — it provides a welcoming opportunity to root yourself within an Indigenous community.
Program Requirements
NATP residents are expected to spend 3–5 hours a week actively participating and engaged in theme program activities, including:
A yearlong (fall and spring) seminar, Native American Studies 194A/B. The mandatory seminar is a 2-unit, graded class that meets twice a week for 1.5 hours (a total of 3 hours). If you are admitted to NATP, you will be given more information about how to enroll in the class. The class will take place on Mondays and Wednesdays from 2:00-3:30 pm. The coursework includes weekly discussions about assigned readings, and the completion of reflective journals as homework.
NATP individual check-ins with TPRA (one hour/bi-weekly).
Community social events (TBD).
Theme program events and Native American Student Development Office-sponsored events, as well as other events designated as required for the theme program.
Creation of one NATP signature event open to the greater Berkeley community each semester, including planning and committee meetings (example: Open House or Native American Heritage Month Activities).
NATP fall and spring retreats.
Signature Events & Programming
Events include a wide variety of interaction with faculty and staff, as well as community activities. Some examples of events are:
Native American Theme Program Open House
Native American Heritage Month Activities
Annual trip to Alcatraz Island for the Sunrise Ceremony on Indigenous Peoples' Day
Service-learning and volunteerism with local Native American organizations and community events
Participation in the annual UC Berkeley Pow Wow, and attendance to other Pow Wows in the area
Recruitment and retention activities with Indigenous and Native Coalition Recruitment and Retention Center (INC-RRC) and bridges Multicultural Resource Center
Collaborative events and activities with other theme programs and housing co-ops
UC Berkeley Native Jumpstart, Cal-Day, and Senior Weekend events
Living Space
NATP residents live together in mini-suites in Slottman Hall, Unit 1, which is situated one block south of campus and a few blocks away from the bustle of Telegraph Avenue. For more information about Unit 1, including amenities and features, academic services, and more, please visit Housing.
Contact
If you have additional questions about the living space that are not answered here, please email Residential Life at rsc-livinglearning@berkeley.edu.
For questions about the NATP program (such as requirements, application process, seminar, and so on) contact Phenocia Bauerle, Director of Native American Student Development at 510.642.2842 or phenocia.bauerle@berkeley.edu

.

If you are a transfer student who will be living off-campus but would like to participate in the seminar, this is an option! Please contact the director of NASD directly to discuss.